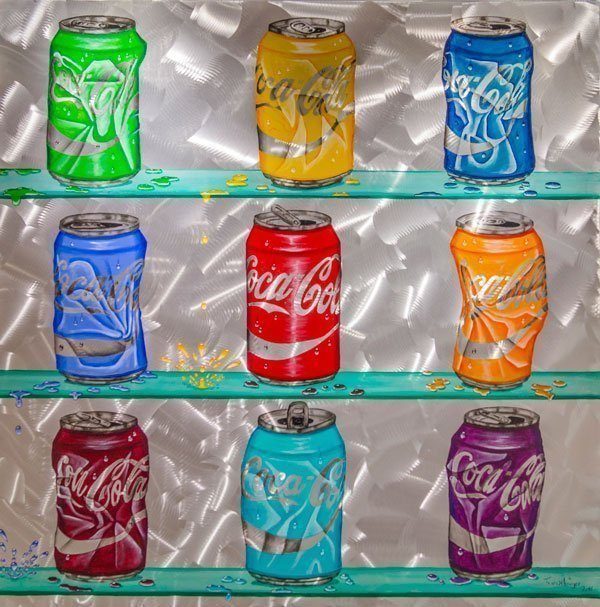 Tribute to Andy W. II
Pop Art, Aluminium, Frank Krüger
140 x 140 x 5 cm
2016

Price: 9.900 Euro
Location:

Anyone who has ever been to the Whitney Museum in New York knows how breathtaking art can be. This place is also pure inspiration for artists like Frank Krüger.
The impuls for the work TRIBUTE TO ANDY W. II was given by the famous cola-bottle-painting by A. Warhol, which was exhibited in the above mentioned museum.
DESCRIPTION
Shown are cola cans, all in different colours. On closer inspection, they are all slightly pressed in, with one exception: the original cola can in the middle.
Especially to mention is the used material as well as its preparation of it. The picture is painted with oil colours on aluminium. Unique! Frank also works on the prefabricated aluminium plate himself. Colour and material are weatherproof and also suitable for outdoor use.
INTERPRETATION
The work of art offers many possibilities of interpretation. The the variety of colours can stand for different individuals. They are all different, but in the end they are all a cola can.
This work expresses for Frank: only the original is authentic and real. The typical, red cola can in the centre of the picture stands for this. All copies are short-lived. This can be transferred to all areas of life.
Die Cookie-Einstellungen auf dieser Website sind auf "Cookies zulassen" eingestellt, um Ihnen das bestmögliche Surferlebnis zu bieten. Wenn Sie diese Website weiterhin nutzen, ohne Ihre Cookie-Einstellungen zu ändern, oder auf "Akzeptieren" klicken, stimmen Sie dem zu.