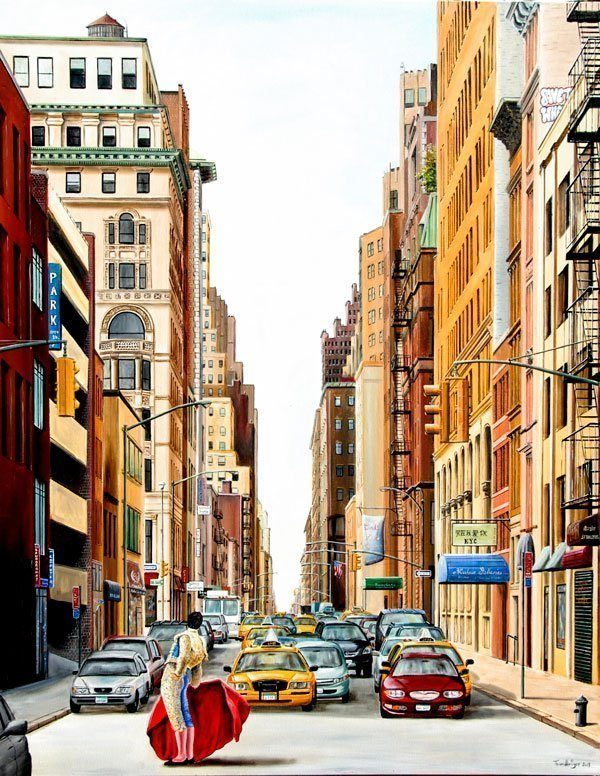 Torero en New York City
Surrealism, Art Print on Canvas Limited Edition, Frank Krüger
123 X 96 cm
2009

Sold

With this work, the artist expresses his antipathy towards bullfighting in a very ironic way. A bullfighter stands against the approaching traffic and does not have the slightest chance of winning this duel.
Frank Krüger is a declared bullfighting opponent and shows this with Torero in New York City.
DESCRIPTION
A bullfighter tries to stand up to the traffic with his red capa in New York City. The scene takes place in Manhattan, 30th corner Madison Avenue with a view into 5th Avenue.
The picture itself contains many hidden messages. A Chinese message can be seen above the blue canopy. The meaning: Laura I love you! The date corresponds to their first visit to New York.
Other languages like English, Hebrew, Hindu and Thai contain messages that are very important to Frank. Among them for example: save the whales or peace without ceasing. You can find the message at the top right, above the head of the bullfighter or on the very right on the doors.
All details match the scenery on site. Anyone who knows the artist is aware that the Galería Frank Krüger is somehow mentioned in every New York painting.
INTERPRETATION
A bullfighter tries to compete against things that are much stronger than himself. Winning is impossible. In a figurative sense: a bullfighter would never be able to defeat a bull without a sword!
Die Cookie-Einstellungen auf dieser Website sind auf "Cookies zulassen" eingestellt, um Ihnen das bestmögliche Surferlebnis zu bieten. Wenn Sie diese Website weiterhin nutzen, ohne Ihre Cookie-Einstellungen zu ändern, oder auf "Akzeptieren" klicken, stimmen Sie dem zu.