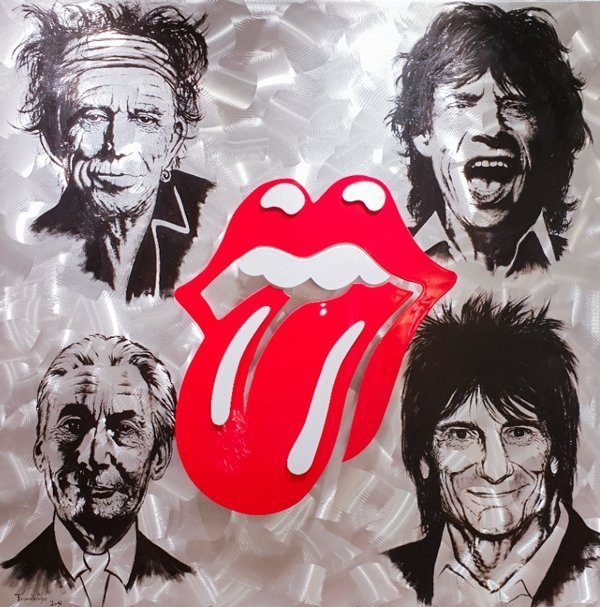 The Rolling Stones IV
Pop Art, Glossy paint on aluminum, Frank Krüger
140 x 140 cm
2018

Price: Price on request
Location:

The artwork THE ROLLING STONES IV has a very special meaning for Frank Krüger. His father was already a fan of this legendary rock band and so the music of the Stones was also part of Frank's childhood.
The strong connection to the group arose for Frank during his adolescence. Every three months a community party took place and ended each time with the song "Satisfaction". It was an experience that had a great impact on Frank.
DESCRIPTION
All four band members of the Stones can be seen. The portraits have been skillfully placed in the four corners of the picture. So that the concise, red tongue in the middle of the work can unfold its full effect. THE ROLLING STONES IV shows Keith Richards top left, Mick Jagger top right, Ronnie Wood bottom right and Charlie Watts bottom left.
The basis is an aluminium plate. It was painted with oil paints. Also car paint was used – pure creativity. Especially noteworthy is that the tongue was cut out by Frank from a second aluminium plate. Both parts together look more plastic.
The work is exhibited in the gallery in Berlin.
INTERPRETATION
The oldest rock band in the world has influenced everyone somehow. It stands for freedom, protest and very good music. Frank combines all these aspects with this artwork.
Die Cookie-Einstellungen auf dieser Website sind auf "Cookies zulassen" eingestellt, um Ihnen das bestmögliche Surferlebnis zu bieten. Wenn Sie diese Website weiterhin nutzen, ohne Ihre Cookie-Einstellungen zu ändern, oder auf "Akzeptieren" klicken, stimmen Sie dem zu.