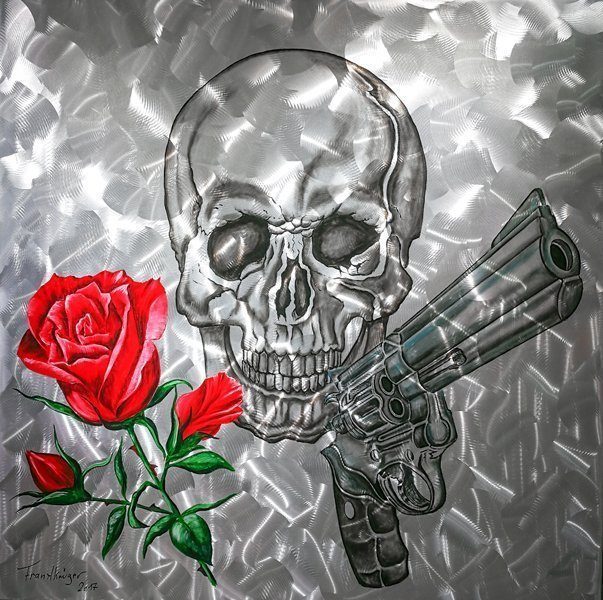 Love and Crime II
Pop Art, Aluminium, Frank Krüger
140 x 140 cm
2017

Price: 8.900 Euro
Location:

Love and Crime II is a work of art by Frank Krüger that unites two opposites and represents the infinity of both aspects. Love meets violence and both will last forever in this world.
The work was created in 2017 and is to be seen in the Galería Frank Krüger in Berlin.
DESCRIPTION
Three elements are shown: a rose, a pistol and a skull. The red rose on the left stands for love. The pistol is represented in metal optics and stands for the opposite, the crime. Both are connected by a skull, which is centered behind both elements.
The pistol is to be emphasized. The perspective is very unusual, as the gun is not really directed at the observer.
The basis for the work of art is an aluminium plate, which Frank worked on himself. A special oil paint was used.
INTERPRETATION
Frank combines two extreme opposites in this work. Love and violence. Both aspects will accompany humanity forever.
They are timeless themes. The skull underlines this once again. It also stands for transience and mortality, but all following generations will have to deal with love and violence as we do nowadays.
Die Cookie-Einstellungen auf dieser Website sind auf "Cookies zulassen" eingestellt, um Ihnen das bestmögliche Surferlebnis zu bieten. Wenn Sie diese Website weiterhin nutzen, ohne Ihre Cookie-Einstellungen zu ändern, oder auf "Akzeptieren" klicken, stimmen Sie dem zu.