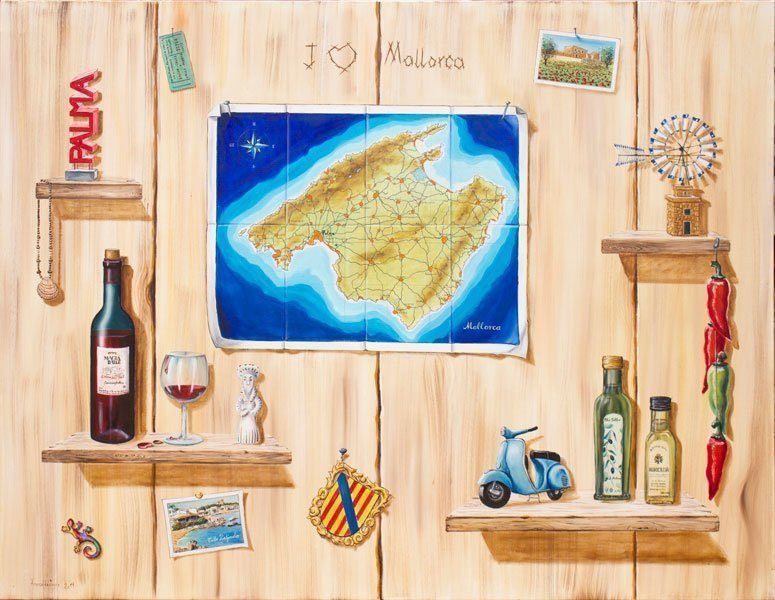 I love Mallorca
Still Life, Oil on canvas, Frank Krüger
145 X 113 cm
2011

Price: 17.800 Euro
Location:

With this work Frank Krüger expresses his love for Mallorca. I love Mallorca shows the viewer all the memories that the artist relates with the island.
DESCRIPTION
After a long round trip on Mallorca, the souvenirs are pinned on a wooden wall in a small chamber at home.
The used map is placed in the centre of the work. Around the map are objects that revive the beautiful memories of the journey.
The title of the artwork "I love Mallorca" is carved in the middle of the top. To the right is a postcard showing a typical Majorcan farm house with a poppy field. The beautiful windmills standing around Palma can also be seen on the right. Underneath hang peppers, which illustrate the taste of the island.
Below on the right are two oil bottles. On the right the oil "Olis Sóller" and on the left the brand "Aubocassa", one of the well-known and best oils of that time. Of course, the old Vespa must not be missing on such a picture. Shown here in blue, it is synonym of the first transport vehicle on Mallorca.
In the lower left corner, you can see an open red wine bottle with the corresponding wine glass. Next to it is a clay pipe, the so-called "siurell", which presents an old Majorcan craftsmanship. Below the small shelf is the typical metal gecko, which particularly tourists buy. Furthermore, a postcard of Cala Ratjada from the 50s and the emblem of the Balearic Islands have been painted.
At the top left is a ticket of the so-called "Red Lightning", the Tren de Sóller. Next to it is a sculpture in the form of the Palma lettering. The original is located in front of the cathedral in Palma. A very personal detail is the shell chain. The artist's daughter found the shell on the beach of Son Serra de Marina. Her request: daddy, the necklace has to be on this picture too!
Die Cookie-Einstellungen auf dieser Website sind auf "Cookies zulassen" eingestellt, um Ihnen das bestmögliche Surferlebnis zu bieten. Wenn Sie diese Website weiterhin nutzen, ohne Ihre Cookie-Einstellungen zu ändern, oder auf "Akzeptieren" klicken, stimmen Sie dem zu.