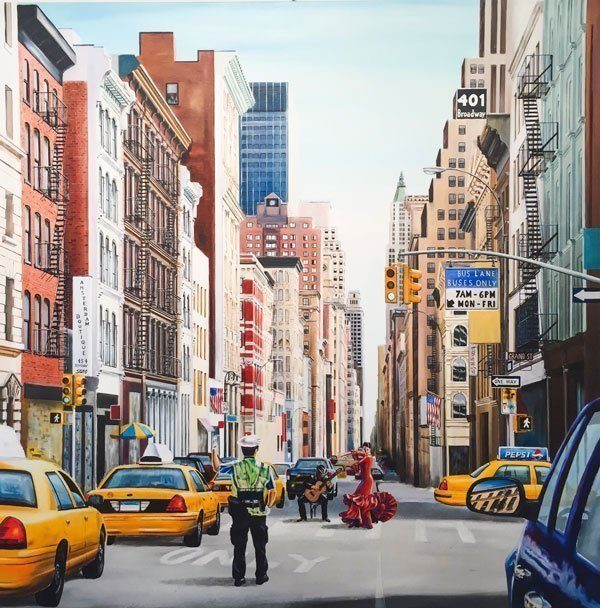 Flamenco on Broadway
Surrealism, Oil on canvas, Frank Krüger
140 X 140 cm

Price: auf Anfrage
Location:

FLAMENCO ON BROADWAY is a work by Frank Krüger, which impresses with its ingenious attention to detail. The picture, oil on canvas, can be seen in the gallery in Cala Rajtada. It is one of the artist's most expensive works.
DESCRIPTION
Two worlds meet in the picture: Spanish flamenco on Broadway in New York. Frank has chosen his favourite district "Soho" in downtown Manhattan for the coulisse. A policeman directs the traffic while he watches the Spanish musician couple.
Everything on the artwork is reproduced authentically and in detail, even the number of ladder steps corresponds to the original. Street signs, buildings, boutiques and traffic lights are consistent with the reality. One exception is to be mentioned: a taxi drives into a one-way street. Such a thing is unthinkable in New York and would trigger an absolute traffic chaos.
INTERPRETATION
Frank combines in this picture themes like multiculturalism, longing and love for New York. Different styles are connected with each other, which would not be possible in reality.
Die Cookie-Einstellungen auf dieser Website sind auf "Cookies zulassen" eingestellt, um Ihnen das bestmögliche Surferlebnis zu bieten. Wenn Sie diese Website weiterhin nutzen, ohne Ihre Cookie-Einstellungen zu ändern, oder auf "Akzeptieren" klicken, stimmen Sie dem zu.