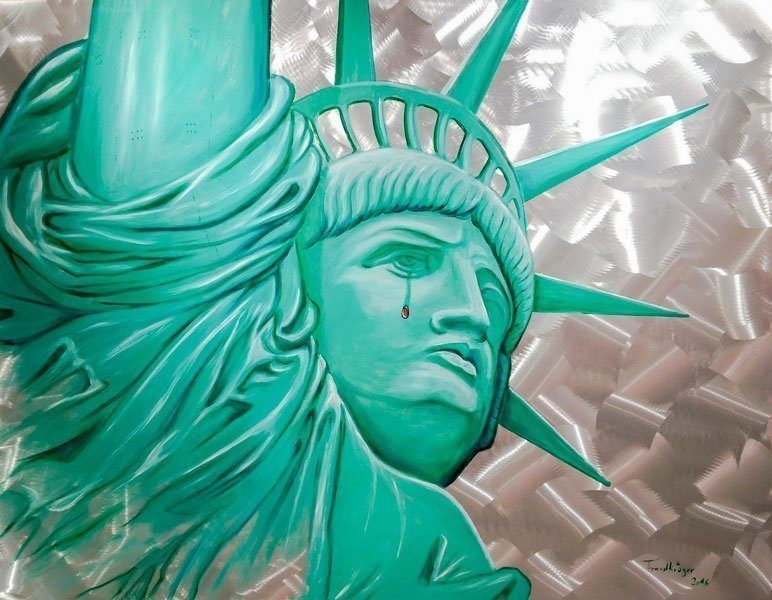 Crying For Freedom
Pop Art, Aluminium, Frank Krüger
140 x 110 x 5 cm
2016

Price: 6.900 Euro
Location:

This work of art by Frank Krüger has a very serious background. Crying for Freedom is intended to encourage people to think about freedom and not to take it for granted. Many people still don't live in freedom and have to fight for it.
DESCRIPTION
You can see the stature of liberty with a tear drop of blood. Shown is the head and a part of the arm.
The basis is an aluminium plate, which was again worked by Frank himself.
INTERPRETATION
The Statue of Liberty is one of the most famous buildings and landmarks in the world. It is located in New York and welcomed many immigrants who came to America with great dreams.
Unfortunately, not all immigrants have made it to the mainland and so the tear of blood stands for all the people who have lost their lives worldwide in the struggle for freedom. Not only the topic of freedom should be the focus here, but also equal rights and independence.
Freedom, equality and independence are still not a matter of course in today's world. There are still so many sad situations and circumstances in the world. Therefore, Frank let the Lady Liberty cry.
Die Cookie-Einstellungen auf dieser Website sind auf "Cookies zulassen" eingestellt, um Ihnen das bestmögliche Surferlebnis zu bieten. Wenn Sie diese Website weiterhin nutzen, ohne Ihre Cookie-Einstellungen zu ändern, oder auf "Akzeptieren" klicken, stimmen Sie dem zu.